"I LIKE WAFFLES!"
This is an about page. This means that unless it is about a user on this wiki, anyone can edit it.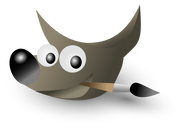 Gimp is a photo editing service, much like
Photoshop
.
GIMP stands for General Image Manipulation Program
The name of GIMP's mascot is Wilber
When on the taskbar on Windows, it is called GNU Image Manipulation Program
Ad blocker interference detected!
Wikia is a free-to-use site that makes money from advertising. We have a modified experience for viewers using ad blockers

Wikia is not accessible if you've made further modifications. Remove the custom ad blocker rule(s) and the page will load as expected.